LATEST NEWS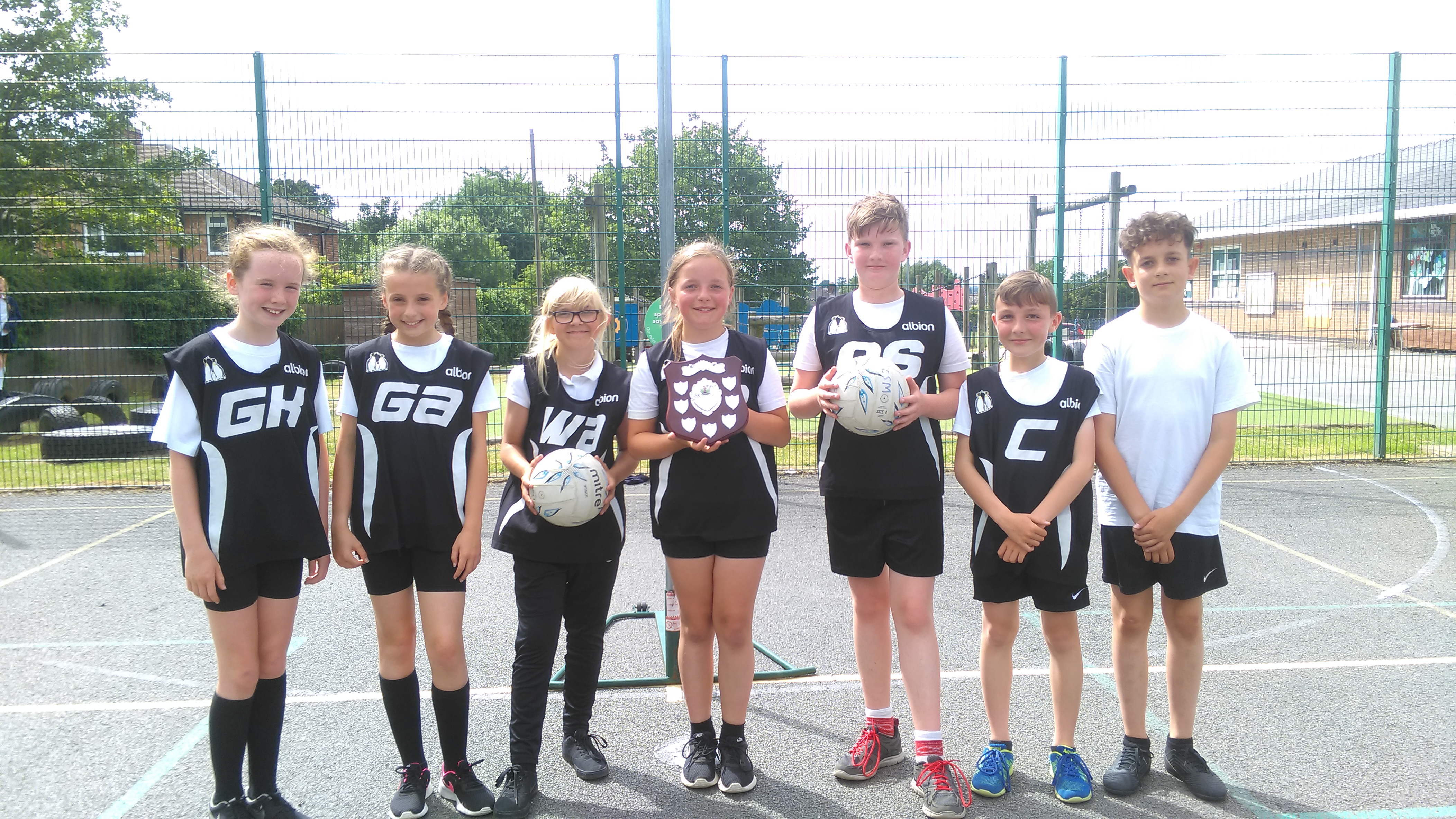 Whitwick Win Big at High 5 Netball
Posted on: Under news
On Tuesday 12th and Wednesday 13th June, 30 teams descended on Ashby School to take part in the event.
Including – Heather, Sir John Moore, Hugglescote, New Swannington, All Saints, Ibstock Junior, Moira, Woodstone, Ellistown, St Clare's, Dove Bank, Broomleys, Ashby Willesley, Woodcote, Packington, Thringstone, Ashby C of E, Whitwick St John, Donisthorpe and Griffydam
High 5 Netball is a mixed gender game were teams play boys and girls across full sized courts with GS, GA, C, GD and GK. Each tournament had 4 pools of either 4 or 3 teams with everyone getting at least 6 games on the day. The top team from each pool then progressed to the Semi Finals of that night with the Winning team going on to play the Winning team from the other night in a Final to decide who progresses to Level 3.
On Tuesday the Semi Final line-up featured some interesting clashes. With Whitwick St John A playing Ashby Willesley A and Whitwick St John B playing Ashby Willesley B. With both Whitwick St John teams playing each other in the final.
Whitwick St John A 6 – Whitwick St John B 2
On Wednesday the Semi Final line-up featured the highest scoring game of the tournaments. With All Saints C of E A playing Hugglescote A and All Saints C of E B playing Woodstone. The Woodstone game end on a 10 – 0 score. With Hugglescote A and Woodstone playing each other in the final.
Hugglescote A 4 – Woodstone 0
The final was hosted by Whitwick St John. Both Teams put in 100% effort however Whitwick St John beat Hugglescote to progress to the level 3 competition at the Summer Championships.
Sprit of the Games were awarded to Griffydam and Woodstone for their passion, respect, honesty and teamwork.
A massive thank you to Ashby School for allowing us to use their facilities for this event, Ashby School for providing fantastic officials for the event. Without their support, we would struggle to hold a High 5 Netball tournament.
Tuesday 12th June – Results
Pool 1
1st Place – Whitwick St John – 7 points (points difference of 17)
2nd Place – Broomleys – 7 points (point difference of -1)
3rd Place –  Ashby C of E A – 4 points (point difference of -8)
3rd Place –  Griffydam A – 4 points (point difference of -8)
Pool 2
1st Place – Ashby Willesley A – 12 points
2nd Place – Thringstone A – 5 points (point difference of -2)
3rd Place – Donisthorpe – 5 points (point difference of -12)
Pool 3
1st Place – Whitwick St John B – 9 points
2nd Place – Thringstone B – 7 points (point difference of 0)
3rd Place – Griffydam B – 7 points (point difference of -7)
Pool 4
1st Place – Ashby Willesley B – 12 points
2nd Place – Whitwick St John C – 7 points
3rd Place – Ashby C of E – 5 points
Semi Final
Winner – Whitwick St John A – 5 points
Runner Up – Ashby Willesley A – 0 points
Winner – Whitwick St John B – 3 points
Runner Up – Ashby Willesley B – 0 points
Final
Winner – Whitwick St John A – 6 Points
Runner Up – Whitwick St John B – 2 Points
Wednesday 13th June – Results
Pool 1
1st Place – All Saints C of E – 9 points
2nd Place – Dove bank – 7 points
3rd Place – Ellistown – 5 points
4th Place – Heather – 3 points
Pool 2
1st Place – All Saints C of E B – 9 Points
2nd Place – Ibstock Junior – 8 points
3rd Place – Sir John Moore – 7 points
Pool 3
1st Place – Hugglescote A – 12 points
2nd Place – St Clare's – 6 points (point difference of -4)
3rd Place – New Swannington A – 6 points (point difference of -10)
Pool 4
1st Place – Woodstone – 12 points
2nd Place – Hugglescote B – 8 points
3rd Place – New Swannington B – 4 points
Semi Final
Winner – Hugglescote A – 2 points
Runner Up – All Saints C of E A – 1 points
Winner – Woodstone – 10 points
Runner Up – All Saints C of E – 0 points
Final
Winner – Hugglescote – 4 points
Runner Up – Woodstone – 0 points
Tags:

Category:

Date:

July 5, 2018

Author:

Comments:

0
RELATED POSTS