LATEST NEWS
The Sports and Health Awards 2020
Posted on: Under news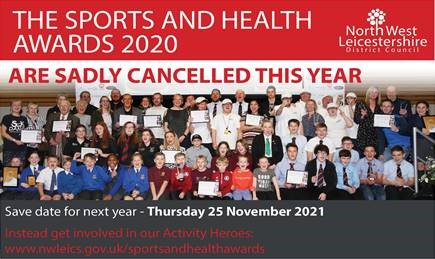 The Sports and Health Awards 2020
We are sorry to announce that the decision has been made to cancel the sports and health awards for 2020. This has been a hard decision but is due to the unprecedented times that we are currently facing.
But we wanted to let you know that we can get through this together, so we will be back better than ever to celebrate schools and young people's achievements in 2021. Please reserve Thursday 25th November for our 2021 awards evening. We look forward to receiving your nominations, with nominations open between June and October 2021, and we hope to see you there!
However, we still want to recognise the fantastic achievements that schools and young people have made across 2020 (since Sept 2019), particularly during recent months, so we announce our replacement awards for this year in the…Activity Heroes!
The Activity Heroes
What is it?
We want to, using our virtual Activity Heroes awards, celebrate, recognise and say thank you to the people within our communities that have been motivating, inspiring and making it possible for us to keep physically active and healthy before and throughout the coronavirus pandemic. So much great work has taken place over the year already, and we all know the power of sport and physical activity, so together let's share and shout about what has been happening recently and what will happen in the future as we return to play and activity.
To share the stories and successes the NWLSSP and District Council teams will be using Facebook, Twitter and direct emails.
Please like and follow our social media which can be found at the bottom of the homepage as well as our partners Facebook page (@NWLhealthteam), and Twitter page now so that you don't miss out on any activity heroes.
When are they and how can we nominate?
The awards will be running between August and November 2020. Nominations open on August 1st and close on October 30th, so go on spread the word and get yourself, your school, your family and friends involved!
Where can we find out more?
For more information and to nominate easily online visit: nwleics.gov.uk/sportsandhealthawards
Highlights from 2019
We want to say a massive thank you to everyone who was involved with the fantastic event in 2019! Take a look at our highlights video now – https://youtu.be/3vdEdFbxxiI
If you would like copies any images used please contact Emily on emily.rodbourne@nwleicesterhsire.gov.uk
Tags:

Category:

Date:

July 9, 2020

Author:

Comments:

0
RELATED POSTS