LATEST NEWS
Battle for the Mini Red & Mini Orange Tennis Title
Posted on: Under news
Year 3/4 Mini Red Tennis Competition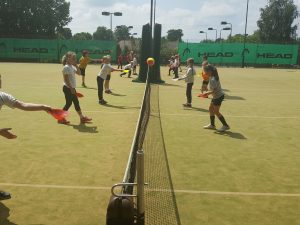 It was a glorious day for a Mini Red Tennis competition on Wednesday 24th May, over the day the tournament had 34 teams enter from 14 North West Leicestershire (NWL) Schools. With over 136 pupils featured it was one of NWLSSP's biggest Tennis competitions.
The competition is aimed at both beginners and those who are more experienced tennis players, enabling all pupils to learn new skills with the help of Ashby Castle Tennis Club Coaches, as well as play some exciting mini red tennis matches.
The competition was divided into four sessions;
Skills based session including handball.
Doubles tennis.
Coaching session.
Mini Red Tennis Matches.
Following all four sessions the winners of the morning session were Whitwick St Johns Primary School, with Albert Village securing the Spirit of the Games award. The afternoon session winners were Ashby Willesley Primary School, Newbold were awarded Spirit of the Games award for that dedication and effort throughout.
Both winning teams played in the final on Tuesday 13th June, overall Willesley won the competition with Whitwick fighting right till the end but just missing out. Willesley will now progress onto the Level 3 County Finals.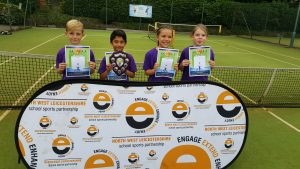 Year 5/6 Mini Orange Tennis Competition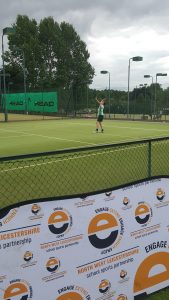 On Tuesday 13th June, the Yr 5/6 competition was also held at Ashby Castle Lawn Tennis Club. This consisted of a morning and afternoon session, we had 4 teams in each event utilising all 7 courts at the club. Matches were 15 minutes long and some exceptional skills shown. Young leaders from Ivanhoe helped score the matches and they expressed their amazement at the standard on display.
The morning session was dominated by Willesley with many of the team playing at the club, and only losing 1 out of their 24 matches played. Although Packington were close behind winning 13 of their matches.
Well done to Ellistown who were awarded spirit of the Games, for putting there all into each match.
During the afternoon session, it was close between Ashby Hill Top and Whitwick St John. Ashby Hill Top just pipped Whitwick to the win by securing 21 match wins with only 3 loses.
Congratulations to New Swannington for achieving the Spirit of the Games award.
We would like to extend a huge thank you to Ashby Castle Tennis Club for their support in helping deliver the event and providing a great venue. The young leaders from Ivanhoe who are keen tennis players themselves provided some great umpiring throughout the tournament and would like to thank them for their help on the day.
Tags:

Category:

Date:

June 19, 2017

Author:

Comments:

0
RELATED POSTS