LATEST NEWS
Winning Week for Willesley & Whitwick
Posted on: Under news
It was a successful week for Ashby Willesley, Whitwick St John and plenty of others as Coalville Gymnastics Club played host to 3 fantastic afternoons of gymnastics as the Key Steps 1, 2 & 3 competitions all took place.
In each competition, teams rotated around 6 stations including a warm-up, practice areas and then judging areas for floor and bench/vault. For the judged performances, children had to learn set routines and skills and perform them with maximum precision, style and technique. Scores were awarded for each individual child which were used to calculate overall team scores as well as the individual winners.
Overall 280 children took part across the week as 69 teams participated from 19 schools.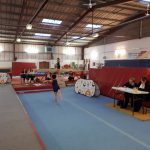 On Tuesday, 19 of those teams battled it out in the Key Steps 1 competition for years 1 and 2. The top 4 teams were extremely close as Whitwick St John A narrowly missed out on the podium by 0.05 points. New Swannington A claimed third place with 53.10, Albert Village were runners-up with 54.90 and it was Willesley A who were crowned champions with a score of 55.35 (of a possible 60.0). As well as their fourth place, Whitwick St John also won the spirit of the games award for their passion and teamwork throughout the day.
In the individual competition, India Pearson from Willesley finished in third place with a score of 18.7 (out of 20.0). Maisie Briggs from New Swannington came in second with 18.75 and Ella Jackson from Albert Village won with an impressive 19.35.
On Wednesday it was the chance for year 3 and 4 children to participate in the Key Steps 2 competition. There was more high quality action with plenty of children finishing on the podium. In the team competition, Worthington finished in 3rd place with 52.40. There were joint runners-up as Woodstone and Whitwick St John A both finished on 53.70. Willesley had another very successful day with their 3 teams finishing in 1st (54.80), 5th and 9th. Ibstock junior were awarded the spirit of the games award for their passion and self-belief.
In the individual competition, 3 children shared 3rd place with 2 girls from Woodstone being joined by Evie Smith from Whitwick St John after all scoring 18.10. Beth Mills (Willesley) and Albert Hewson Purdy (Whitwick St John) shared 2nd place with scores of 18.30. Willesley also claimed top spot in the individual competition with one Mia Showell scoring 18.60.
The final competition was the Key Steps 3 event which gave year 5 and 6 children their chance to compete. Whilst there was some impressive routines across all of the teams, it was Whitwick St John A who dominated the evening. They took 1, 2, 3 in the individual competition as William Jurkowski  (3rd – 18.3), Hollie Straw (2nd – 18.7) and Ruby Smith (1st), who recorded a perfect score in the vault on her way to the highest overall score of the week – 19.6, all made it on to the podium. The 3 performances gave Whitwick the top place in the team competition with 56.60 ahead of Griffydam (53.7) who finished 2nd and Hugglescote (53.6) who finished 3rd. Griffydam also secured the spirit of the games award for their teamwork after all 4 of their team finished in the top 16 of the individual competition.
Thanks to everyone who took part in the competitions and who came along to support – there was a great atmosphere throughout the week.
Also a huge thank you to Coalville Gymnastics Club who not only hosted the event but also provided judges, young leaders and general volunteers to ensure the smooth running of the events – they wouldn't have been possible without them all.
Tags:

Category:

Date:

February 9, 2018

Author:

Comments:

0
RELATED POSTS