LATEST NEWS
Tri-Golf Pathway at Coalville Golf Centre
Posted on: Under news
Tri-Golf is a big aspect of our summer events programme that we offer as a partnership, Year 3/4 and Year 5/6 are all invited to Tri-Golf festivals held across the district. As a Pathway event, teams are competing in this event to fight for a chance to secure their place in the Level 3 event at the Summer Championships.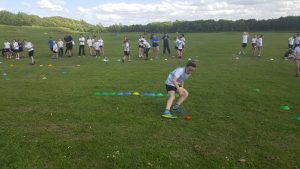 Year 3/4 Competition

The first session was the Year 3/4 competition, six teams descended on The Golf Centre in Coalville. There were eight different golf activities using both a putter and a chipper, each station was run by a young leader from Newbridge High School. Teams had 3 minutes of practice on each station, then the whistle signalled the 5 minutes of scoring.
There were some remarkable skills shown, team work and overall excitement throughout the event. It was great to see the enthusiasm and energy
Overall results were not known until the end so it was highly anticipated, and as you can see below it was close battle for the top 3 places with only 38 points between them with Whitwick coming out on top.
We would like to award Viscount Beaumont with Spirit of the Games for their continued effort throughout the competition despite their first time playing.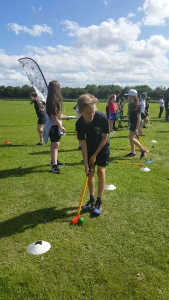 Year 5/6 Competition
Following the Year 3/4 competition, the Year 5/6 competition got underway in the same format as above. The sun was shining and music blaring which contributed to the great atmosphere.
The competitive spirit was still thriving; players were making their shots at the tee then sprinting to collect their ball for the next person to tee off. Even though it was an individual aiming for the targets overall, the teams were working together to achieve the highest score.
Results were tight again, Willesley came out on top just missing out on that 1000 point mark. They were closely followed by Whitwick St Johns and Broom Leys.
Woodstone are awarded with Spirit of the Games for their great team work and respect for the young leaders throughout.
Well done to everyone that competed. Thank you to The Golf Centre in Coalville and young leaders from Newbridge who dedicated their afternoon to making the sessions extra special for the competitors.
Year 3/4 Tri-Golf Pathway
1st
Whitwick St Johns
653
2nd
Broom Leys
650
3rd
Willesley
615
4th
Woodstone
577
5th
All Saints
430
6th
Viscount Beaumont
292
Year 5/6 Tri-Golf Pathway

1st
Willesley
972
2nd
Whitwick St Johns
868
3rd
Broom Leys
781
4th
Woodstone
729
5th
All Saints
701
6th

Blackfordby

298
Tags:

Category:

Date:

June 21, 2017

Author:

Comments:

0
RELATED POSTS