LATEST NEWS
Boccia Event
Posted on: Under news
The first event of 2018 was our KS2 Boccia event. This is amongst one of the biggest inclusive events across the whole county. This led to a great atmosphere at both of the events.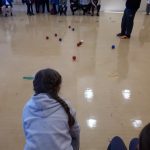 Our first event was held at Forest Way where we had 15 teams from 6 schools. After a tough set of group games both Belvoirdale teams progressed to the semi-finals, where the Belvoirdale B team managed to be victorious. In the other semi-final New Swannington B rolled to success against Warren Hills A meaning that Belvoirdale B and New Swannington B will both progress to our upcoming area final. We would like to say a big thank you to Forest Way for hosting the event and providing us with some excellent young leaders and likewise to King Ed for their young leaders' help.
Our afternoon event was held at Ibstock Community College and included 11 teams competing from 4 different schools. Well done to both Woodcote teams who managed to progress through their groups and Woodstone A who also progressed. Thank you to the Ibstock young leaders who were a great help in running the event and again contributed to a great atmosphere for the event.
New Swannington B, Belvoirdale B, Woodcote A, Woodcote B and Woodstone A will now progress to an area final that will be held soon, well done to those teams and thank you to everyone who took part and contributed to a great event! 
Tags:

Category:

Date:

January 17, 2018

Author:

Comments:

0
RELATED POSTS