Partnership Goes Ping Pong Crazy!!!
Table Tennis kicked of an action packed year of competition in North West Leicestershire School Sports Partnership as Hugglescote and Willesley claimed victory.
Newbridge played host to this year's Table Tennis competitions, which featured 30 teams from 12 schools over the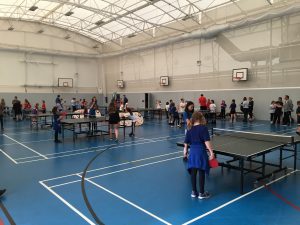 course of 2 evenings last week. Competing in teams of 4, each player would play a singles match against one member of an opposing team with the results across all 4 games deciding who wins the points.
First up was the girls and with a place at the county finals at stake 15 teams arrived with ambitions of making the place their own. Teams travelled from as far as Griffydam, New Swannington, Thringstone and Willesley to compete with teams from Whitwick St Johns, St Clares, Hugglescote, Belvoirdale and Broom Leys.
After the group stage that featured a grand total of 96 games across 8 tables the winners from each group advance to the semi-finals. Semi-final one saw Whitwick St Johns A against Willesley B, after the 4 games had been played the teams were deadlock at 2 games apiece so it was decided on points scored. Willesley advanced to the final by a narrow margin of 37 points to 32.
Semi-final two was between teams from Hugglescote and Thringstone and was eventually won by a very strong Hugglescote team 4-0 overall.
The final which was watched by children, event staff, teachers and the many parents who stayed to watch was a very entertaining affair, with a variety of great shots and rally's being played by both teams. With several games hanging in the balance Hugglescote managed to run out winners by a score line of 3 ½- ½ .
Next up was the boys on Wednesday night. A great turn out again with 15 teams from Broom Leys, Willesley, Thringstone, Snarestone, Viscount Beaumont, Whitwick St Johns, Belvoirdale, Sir John Moore, New Swannington and girls champions Hugglescote hoping to do the double.
Using the same format as the previous night the boys competed in singles matches to win as many points for their teams as possible. After 1 hour of exciting group stage matches the teams gathered around to hear if they had made it to the quarterfinals and who they would be playing.
The quarter final line up included teams from Whitwick St Johns, Hugglescote, Willesley, Viscount Beaumont, Snarestone and Broom Leys. Again some very closes games ended with the teams below advancing to the later rounds of the competition all hoping to bring the title home.
The semi-finals started with a matchup between Whitwick St Johns A and Willesley A. After a close start to the match Willesley managed to pull away in the end to record a victory of 3 games to 1.
Semi-Final 2 between Willesley B and Broom Leys A started off at a rapid pace and maintained it throughout. With the teams neck and neck, it was great to see both teams producing great table tennis at this pivotal point in the competition. After all matches had been played, the teams were level of games at 2 each so it went down to points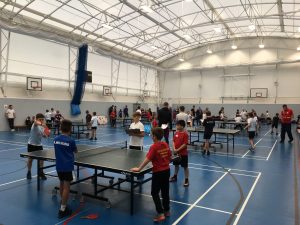 scored. With everyone waiting excitedly to find out if they had reached the final Tom announced that Broom Leys had won by the narrowest of margins. A points total of 33 for Willesley and 34 for Broom Leys.
No sooner had Broom leys been proclaimed the winners, they had been whisked away to play Willesley A in the final.  Everyone who witnessed the final was impressed with the standard of table tennis on display across the 4 tables and enjoyed each game. In the end a strong Broom Leys team couldn't stop a very talented Willesley A team as they claimed victory by a scoreline of 3-1.
The North West Leicestershire School Sports Partnership would like to thank the schools for entering this event, the children for their efforts, the parents who came down to lend their support, King Edward VII college for providing 4 tables and Newbridge for loaning us their fantastic facilities, tables, equipment and the brilliant young leaders.
Winners: Hugglescote (Girls) & Willesley (Boys)
Spirit of the Games: Willesley (Girls) & Thringstone (Boys)
Good Luck to both teams as they represent NWLSSP at the Level 3 County Finals at Knighton Park Tennis Club on the 22nd of November.
Next up year 3/4 and 5/6 Tag Rugby and Coalville and Ashby Rugby Clubs.