LATEST NEWS
Year 5/6 Tag Rugby
Posted on: Under news
Ashby RFC played host to the first of four tag rugby competitions over a 2 week period to decide who would win not only the Ashby and Coalville trophies but also the overall title and represent North West Leicestershire School Sports Partnership at the county competition later this year.
On the 4th October 14 schools attended the first year 5/6 competition held at Ashby RFC.
Ashby Hill Top
Viscount Beaumont
Packington
Ashby C of E
Griffydam
Snarestone
Donisthorpe
Measham St Charles
Ashby Willesley
Moira
Sir John Moore
Worthington
Woodcote
Albert Village
Mixed boys and girls teams consisting of 8 players, played in groups of 4 or 5 teams with the top 2 teams from each group advancing to the quarter final stage. The group stage featured 24 matches in total across 4 pitches and were excellently officiated by a combination of young leaders from Ashby and teachers running the sideline.
The quarterfinal line-up featured some tag rugby heavy weight clashes. With Ashby Hill top defeating Woodcote A 6 tries to 4, Willesley A defeating Snarestone 9-6 and Ashby C of E A winning 6-5 against Albert Village. The last quarterfinal needed extra time to separate Donisthorpe and Willelsey B as the teams were tied on 9 tries each after normal time. The action continued into extra time with some end to end rugby being played by both teams, Donisthorpe secured the win by a massive score line of 12-10.
The end to end action continued in the semi-finals as Ashby C of E won a thrilling match against Donisthorpe by a scoreline of 7 tries to 6. The second semi-final was decided by 4 clinical tries from a direct running Willesley team winning 4-0 against rivals Ashby Hill Top.
Having seen the journey that both teams made to this point had spectators excited to see how it would end and who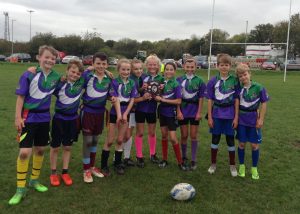 would be left holding the coveted trophy when the final whistle blew. After 12 minutes of drama packed rugby victory belonged to Willelsey by a close scoreline of 4 tries to 2.
A massive thank you to Ashby RFC for allowing us to use their facilities for this event, Ashby School for providing fantastic officials for the event. Without their support, we would struggle to hold an 18 team tag rugby event.
On 5th October it was the turn of the Coalville schools to battle it out for the chance to meet Willesley in the grand final. Due to a last minute venue change, 11 schools descended upon Broom Leys Primary School for a fun filled day of rugby.
Broom Leys
Woodstone
St Clares
Ellistown
Whitwick St Johns
Swannington
Thringstone
Newbold C of E
All Saints
Hugglescote
Belvoirdale
After an action packed 24 group games which featured 209 tries in total it was time for everyone to gather around the central tent to hear if they had made it to the quarter finals. As the rain started to fall, the children thanked their teachers for bringing them, the parents for their support, the King Edward VII College young leaders and finally Coalville RFC in particular Martin and Arran who officiated the games and Broom Leys for hosting the event.
The quarterfinal line up featured many local derby games, which only added to the already terrific atmosphere.  St Clare's defeated neighbours Belvoirdale by the slightest of margins 5 tries to 4, as did Newbold C of E over Swannington by a scoreline of 7-6. Traditional tag rugby powerhouses of Woodstone A and Whitwick St Johns A faced off in the 3rd quarterfinal with St Johns taking the lead early and kept it to edge out Woodstone 6-4.  Woodstone B faced recently crowned girls Table Tennis champions Hugglescote in the final quarterfinal with Hugglescote managing to pull away and win by  8 tries to 5.
Both semi-finals showcased some excellent attacking rugby in 2 high scoring games between the final 4 teams. In semi-final 1 Swannington's run to the later stages came to an end when they met a very fast Hugglescote team. While on pitch 2 the game of the competition was playing out. With the teams neck and neck throughout the entire game, momentum swung back and forth and the game was won with the very last touch of the ball as a slick move by St Clare's was finished with the winning try.
The final which was witnessed by all the parents and children that stayed to the end was again a very entertaining match that was ultimately won by a strong Hugglescote team by a 2 try margin.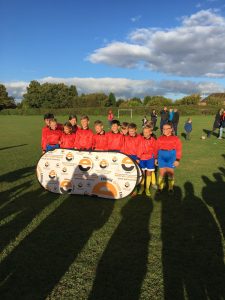 A big thank you to Broom leys Primary School (Hosting), King Edward VII College (leaders) and Coalville RFC for their continued support with making tag rugby more accessible to NWLSSP schools.
A big thank you to our sponsors Principle Wills and Principle Financial Services for their continued support of these Tag Rugby events. 
Willesley and Hugglescote will now meet to decide the overall North West Leicestershire School Sports Partnership champion.
The spirit of the games winners for both events were Ashby Hill Top/ Ashby C of E and All Saints.
Tags:

Category:

Date:

October 9, 2017

Author:

Comments:

0
RELATED POSTS