LATEST NEWS
Thringstone Bowling Club Host Junior Bowls Gala
Posted on: Under news
On Wednesday 21st June Thringstone Bowling Club hosted over 40 pupils from Griffydam, Thringstone, Viscount Beaumont and Worthington Primary Schools.  Coaches from the club had previously delivered sessions in school PE lessons and extracurricular clubs utilising funding from the NWLSSP as part of the 2016/17 Sport and Physical Activity Commissioning Plan.  The Junior Bowls Gala, believed to be the first of its kind in the county, was an opportunity for the children to put into practice the skills they had been taught at school on the club's immaculate bowling green.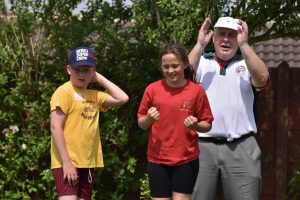 After arriving on a very hot and sunny afternoon the children were welcomed into the Thringstone Bowling Club clubhouse where they were briefed about the activities for the afternoon.  The club coaches had set up 6 different bowls related skills activities for the children to take part in.  Activities ranged from aiming to ring a bell at the end of the rink or making a bowl drop into a cup on an inclined wedge.  Children were divided into groups of four that included one pupil from each school and took part in each of the activities aiming to score as many points as possible for their school team.  The teams enjoyed the competitive nature of the event with the final scores ending up extremely close with Thringstone just coming out on top.
Roz Turner from Worthington Primary School said the event was "well organised and the children really enjoyed it.  We would like to do it again next year!"
All children who have taken part in the programme have been given the opportunity to take further information about junior sessions at the club and it is hoped that some will go on to become junior members of the club over the summer.
David Bamford, the Development Officer at Thringstone Bowling Club said "Our coaches have really enjoyed delivering sessions in schools and today was a great opportunity to give children the chance to experience playing outdoors on a real bowls green.  Bowls is a great social game of skill, technique and enjoyment that can be played by anyone and we really feel the children have embraced this."
David went on to say that " We run free junior coaching sessions at the club throughout the outdoor bowls season on Tuesday evenings from 6.15 to 7.30 pm for children aged 9 upwards.  We try to make each session a lot of fun for the children whilst teaching the game of bowls.  Any child who wishes to continue bowling is invited to join our thriving Junior Section at the club."
The gallery from the event can be viewed here and further information about Thringstone Bowling club can be found in our Community section or on the club website www.thringstonebowlingclub.org.uk.
Tags:

Category:

Date:

July 4, 2017

Author:

Comments:

0
RELATED POSTS